About Women Deliver 2019
Women Deliver is the world's largest conference on gender equality and the health, rights, and wellbeing of girls and women.
The annual Women Deliver Conference gathers thousands of gender equality activists, world leaders, parliamentarians, celebrities, journalists and representatives from civil society organizations around the globe to tackle and discuss the most pressing issues in gender equality, women and girls' rights, health and wellbeing. The 2019 Conference (WD2019) will be held in Vancouver, British Columbia from June 3 – 6, 2019. With a strong youth focus, the Conference has been successful in encouraging youth advocate and participants to be the core of solution consultations. It will serve as a catalyst for advocates working to achieve a more gender equitable world. It will present new knowledge, promote world-class solutions, and engage a broad spectrum of voices. It will focus on several issues from health, nutrition, education, economic and political empowerment to human rights, good governance, and agency.
Women Deliver 2019 Mobilization Canada is carried out by Canadian Partnership for Women and Children's Health (CanWaCH), a network of more than 100 Canadian organizations and global citizens working to realize a world where every woman and child survives and thrives. Women Deliver 2019 Mobilization Canada is a key player in Canada to lead the conversation and engage with the Canadian public.
OCIC's Participation in WD2019
OCIC's Executive Director, Kimberly Gibbons, and Public Engagement Coordinator, Eugenia Ochoa, will be attending the Conference in person. Stay tuned on OCIC's social media channels for live broadcast and sharing.
View the visual report on WD2019 key highlights: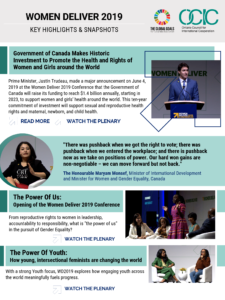 Inter-Council Network Youth Delegation
The Inter-Council Network (ICN), in collaboration with the Women Deliver 2019 Mobilization Canada hosted by the Canadian Partnership for Women and Children's Health (CanWaCH), are supporting a national Youth Delegation to the Women Deliver 2019 Conference. Ten youth delegates from across Canada have been selected to participate in this global event for Gender Equality.
OCIC Delegate – Sydney Piggott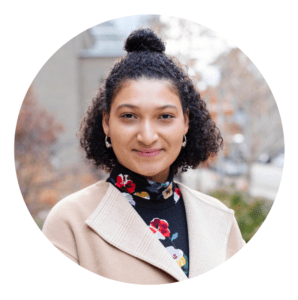 Sydney Piggott (she/her) is a dynamic, results-oriented project manager and researcher with over five years of professional experience in international development, corporate social responsibility, gender advocacy and youth empowerment. She is the Manager of Programs and Projects at YWCA Canada where she is in charge of national initiatives with a vision to see women and girls empowered in a safe and equitable society. Sydney is also on the board of directors of Springtide Resources, a member of Gender Equality Network Canada and a contributor at B*tchcoin News – a financial literacy blog and newsletter for young women professionals in Canada.Sydney is a recent graduate of the Master of Global Affairs program at the University of Toronto – Munk School of Global Affairs and Public Policy where she co-founded the Intersectional Feminist Collective, was a Queen Elizabeth II Diamond Jubilee scholar and a researcher for the Reach Project – an initiative that focuses on the delivery of development interventions to the world's most vulnerable groups. She has international research experience in Ethiopia and South Africa. Sydney also holds a bachelor's degree in International Development Studies from McGill University.
A Feminist Approach to Climate Justice – Pour une justice climatique féministe
On June 4, 2019, the Inter-council network, in collaboration with AQOCI and the YMCA of Québec, held an Open Space forum on a feminist approach to climate justice with the Canadian Youth délégation.
Women are particularly vulnerable to the impacts of climate change, but they are also agents of change. How can Canada better recognize and support women's leadership in climate change adaptation and mitigation and value their knowledge in this area? How can NGOs better support women's voices in climate justice and facilitate their access to finance? How can we attack the root causes and the power relations inherent to gender inequality in order to move towards a feminist approach to climate justice.
Read the Youth policy paper:
Accessible versions (Microsoft Word): EN / FR
Satellite Event: Investing in Women and Girls (June 4, 2019)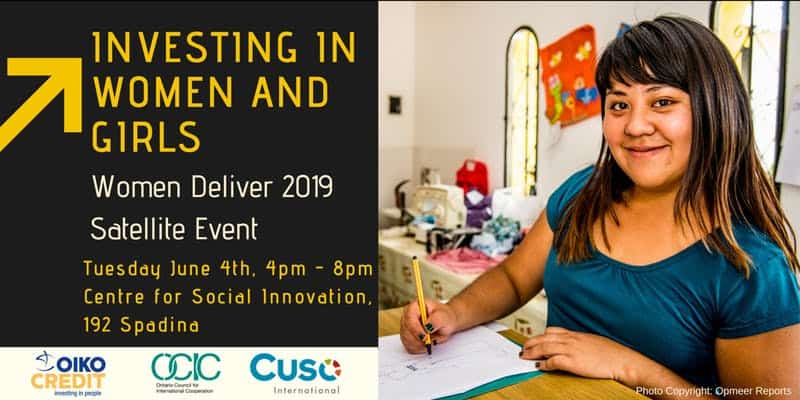 Oikocredit Canada, OCIC and Cuso International are pleased to invite you to Investing in Women and Girls, a Women Deliver 2019 Satellite event in Toronto. The event will include an interactive storytelling session, a live streamed panel from the Conference on "The Power of Money: Driving equitable economic growth by investing in women" followed by a discussion and a networking session.
Storytelling Session: Investing in Women and Girls Wellbeing SDG 3 Goal
Midwives save lives, join Cuso International for an interactive session on maternal and neonatal health work in Africa.
According to the UN, "since 1990, the world has seen a 44 per cent decline in maternal mortality rates. But despite this progress, some 830 women still die every day from causes related to pregnancy or childbirth.
Women Deliver 2019 Conference Live Stream: The Power of Money: Driving equitable economic growth by investing in women
The World Bank estimates that nations leave $160 trillion on the table when women don't fully participate in national economies. The Power of Money will examine examples of investments in women's financial inclusion, seed funding, patient capital, gender smart investing, and women led and owned businesses. Through partnerships and mechanisms, and by creating an enabling environment, we can drive inclusive and equitable economic growth that benefits everyone. We will also explore ways to increase funding and other resources for women-focused organizations. Investing in girls and women is the right thing to do and the smart thing to do.
We will "virtually" join Maria Cavalcanti, President and CEO of Oikocredit partner Pro Mujer, Humphrey Nabimanya (Reach a Hand Uganda), Theo Sowa (African Women's Development Fund), Suzanne Biegel (Catalyst at Large), Dr. Gayathri Vasudevan (Labournet), Anu Madgavkar (McKinsey Research), Vivian Hunt (McKinsey Research), Dr. Precious Moloi-Motsepe (AFI) and moderator Raj Kumar (Devex) as they share their insights and expertise on this important topic.
When: June 4, 2019 | 4-8PM (EST)
Where: Centre for Social Innovation, 192 Spadina Ave, Toronto, ON (Room info: Bigger Bolder Room, Ground Floor)
This is a free event. Registration is required.
Light refreshments will be provided. The Centre for Social Innovation is an accessible space.